Continuing our project exploring the Strava Metro data for Bath we decided to begin exploring when cycling activities are taking place at different times of the day, week and year.
Last time we took a high-level look at the data to understand its scope and coverage. Now we're going to start digging into the detail to begin building up a picture of how cyclists are moving around the city.
The following chart provides a summary of when Strava users are active in and around the city. There's quite a lot to it, so let's break it down.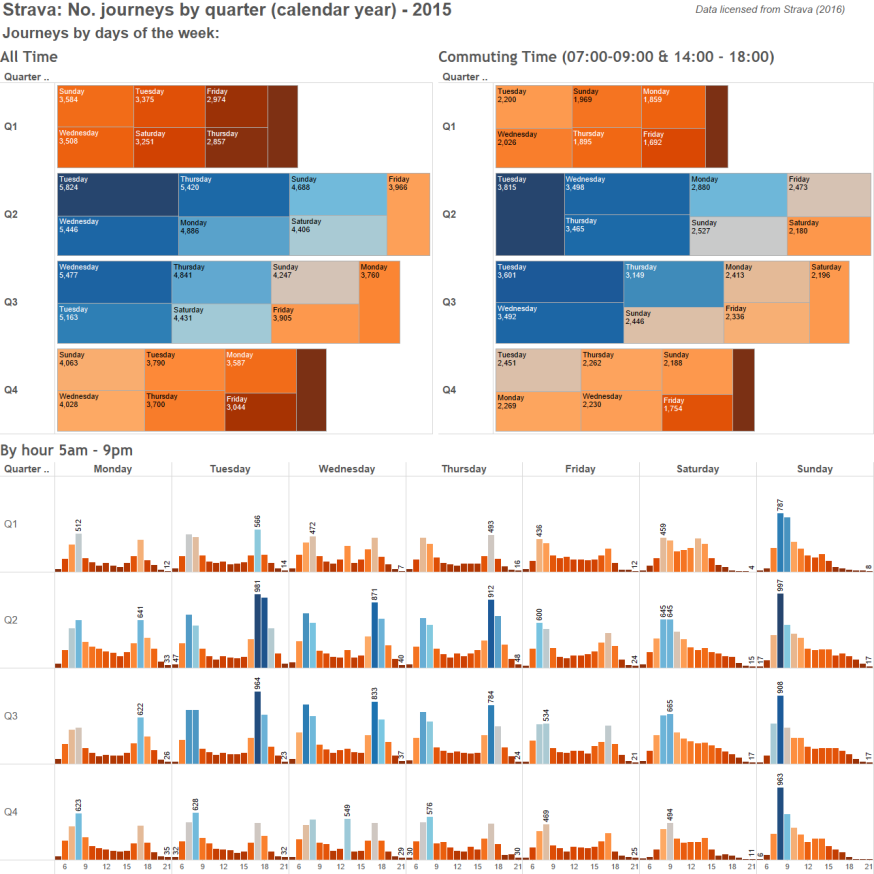 The top half of the chart shows the number of journeys for each day of the week, grouped by quarter.
Days that are shown in blue have the most journeys. Orange and red indicates days with fewer journeys.
Looking at the top-left of the chart you can see that in:
Q1 (January-March) most of the journeys are on Sundays and Wednesdays.
but in Q2 (April-June) and Q3 (July-September) its Tuesdays and Wednesdays that are the busiest days
Q4, its back to Sunday and Wednesday
The comparison on the right hand side just looks at the journeys that took place within normal commuting times. You can see there that Tuesdays and Wednesdays always seem to be the busiest days.
The bottom half of the chart shows a similar breakdown by quarter and by day of week. But in this case we've included the time of day during which the activities took place. You can see, for example that in Q2 & Q3 there are definite peaks of activity during commuting hours.
This is already very interesting!
For example, why are Tuesday's and Wednesday's so busy? It may be an artefact of small sample sizes and so isn't statistically significant. Or maybe there's a regular cycling meetup or other local activities that are held more regularly over the summer?
Saturday and Sunday mornings always seem to be consistently busy times for cyclists. Based on this, if you want a quiet ride, then would going out later in the day be better?
What trends or insight can you draw from the data? We'd be interested to know your thoughts, so please leave us a comment below.
In the next post we'll demonstrate how the data looks on a map, to add a geographic dimension to our analysis.
We'd like to thank Strava for the opportunity to work with a sample of their Metro dataset. It's a fantastic insight into cycling activity around the city.