After an intense 2 days of hacking, pizza eating, red bull quaffing and beer drinking we are delighted to announce the winners of the first Bath: Hacked event:
Grand Prize (£1000) – "Data Blitz" by Mark Owen and Duncan Barclay
Community Impact Award (£250) – "Team Discovery" by Simon Starr, Jordan Elver, Jack McConnell and Tom Lewis
Best Use of Data (£250) – "Tourism Dashboard" by Takashi Yonenaga
Best Completed Project (£250) – "Road Reporter" by Jack Franklin, Ollie Marshall, Ollie Jennings and Carl Holloway
Hacker's Choice Award (£250) – "Road Reporter" by Jack Franklin, Ollie Marshall, Ollie Jennings and Carl Holloway
Judging process
This certainly wasn't X Factor and while we may loathe the cliché, the judging was particularly difficult. First up our apologies for the time overrun; we couldn't have picked judges with better credentials or finer experience and even they had a tough time picking clear winners.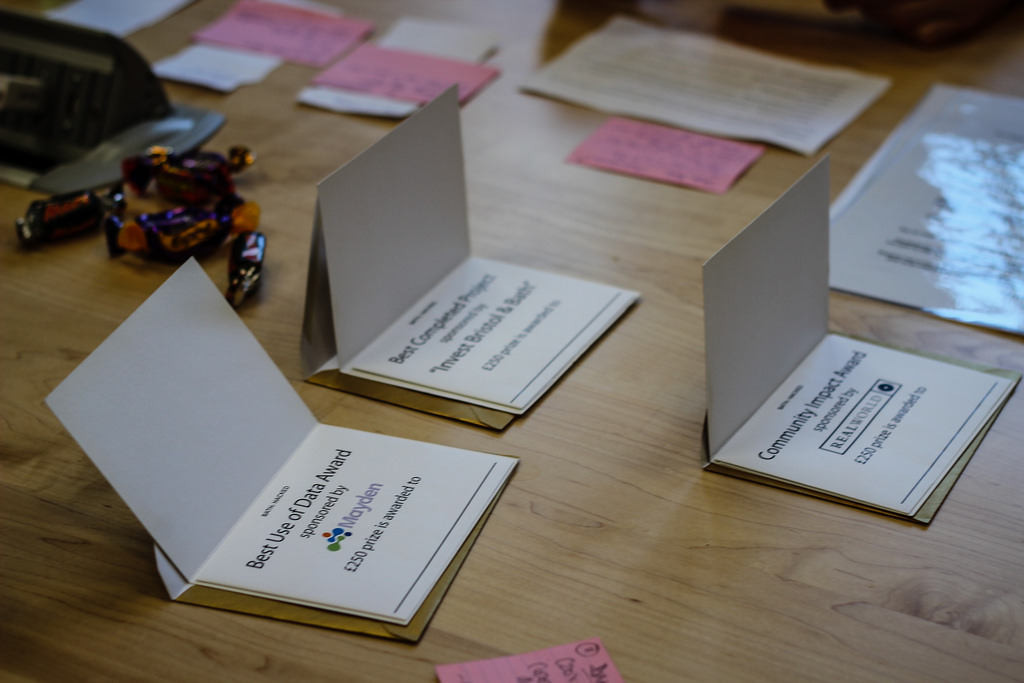 Every team turned in work that stimulated ideas in how we can use local data to make a difference in our community. The shipping level was also spectacular: Over half our projects arrived in a usable form by the end of hack and we do hope they don't gather dust. Good things are worth pursuing!
Prizes are a binary process and we're only sorry there couldn't be more categories; several teams that didn't make the final cut were pipped to the post in more than one category and were perhaps closer to sweeping multiple prizes than they'd realise. Our judges summed up the reason for their decision on the grand prize beautifully:
"Data Blitz lit a spark for something that feels important. Their project summed up what this event is about." – Doug Laughlen
Data Blitz wrangled a vast amount of local data in a very short space of time and managed to span several prize categories. While far from polished, it tried to make the complex feel simpler, on a grand scale. Every team achieved the same (to a quite remarkable degree) which is why this event was such a success: You all did something useful.
We simply couldn't ask for more.
We must give a massive thanks once again to Valerie West of The Dyson Foundation, Doug Laughlen of LocalGiving.com and Ross Ferguson of Bath University who had an unenviable task and performed superbly.
What we made
Bath City Parking
Find your parking space via crowd sourced realtime parking data.
Communa.ly
Help build community spirit, encourage participation and promote resident benefits in Bath.
Data Blitz (£1k Grand prize winner)
Interactive blobs and dots engine capable of wrangling almost any geo data type, built on Elastic Search. Try it out at http://bathhacked.dro.me.uk/
House/Boat
Is your house going to flood? Use this and find out: http://houseboat.theagencyonline.co.uk/
How green is your street?
No seriously, how green is it? The most (and least) environmental streets in Bath.
My Bath mobile app
Tailored local data in your pocket. (Slidedeck / Download app)
Recyclotron
How much do you recycle? http://nadnerb.co.uk/bathhacked/#/
Road Reporter (£250 Best Completed / £250 Hacker's Choice)
An insight into the standard of living in the city of Bath. Try it at http://roadreporterapp.herokuapp.com/#/
Should we eat here?
Just about everything you need to know to pick a restaurant – hygiene, reviews, routes and more.
Team Discovery (£250 Community Impact Award)
Enhances the resident card experience – with notifications and news updates tailored to you. It's Google Now, for Bath.
Texycon
Suggests and gamifies new routes to see different parts of the city.
Tourism Dashboard (£250 Best Use of Data)
Compares B&NES tourism data to give a thorough overview of the City's visitors, compared to the SW region. View the data here
Tourist routes
Data visualisation and analysis of local tourist routes for the council to better understand the city.
Stay in touch
B&NES have been amazingly supportive of our little project and are already announcing further competitions. We're also planning a second official Bath: Hacked at the Digifest in October so please do keep us posted on your projects.
In the meantime please enjoy feel free to share, tag and reminisce on our Official Flickr page. It was a lot of fun.
This is just the start of our open data journey. You all made it happen – thank you!